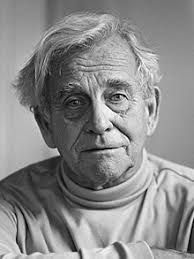 Ο Jan De Hartog (22 Απριλίου 1914, Ολλανδία- 22 Σεπτεμβρίου 2002, Χιούστον,Τέξας,Η.Π.Α) ήταν Ολλανδός νοβελίστας και συγγραφέας θεατρικών έργων που μετακόμισε στις Η.Π.Α στις αρχές της  δεκατίας του 1960 και έγραψε περιπέτειες και στα Ολλανδικά και στα Αγγλικά.
Ο ίδιος ήταν ιδιαίτερα περιπετειώδης καθώς έφυγε δύο φορές από το σπίτι του για να δουλέψει στη θάλασσα. Κατά τη διάρκεια του Β' Παγκοσμίου Πολέμου έγινε μέλος της Ολλανδικής Αντίστασης και το 1943 αναγκάστηκε να κρυφτεί. Αργότερα εκείνο το έτος κατέφυγε στην Αγγλία και τελικά εγκαταστάθηκε στις Ηνωμένες Πολιτείες. Το πρώτο του μεγάλο έργο Hollands glorie: roman van de zeesleepvaart,το οποίο μεταφράστηκε το 1947και στα Αγγλικά ως Captain Jan: A Story of Ocean Tugboats, αφηγείται με χιούμορ την καριέρα ενός νεαρού στο Εμπορικό Ναυτικό.
Τα επόμενα έργα του, A Sailor's Life (1956), The Inspector (1960), The Peaceable Kingdom: An American Saga (1972), The Lamb's War (1980), The Trail of the Serpent (1983), and Star of Peace (1984), γραμμένα πια στα Αγγλικά είναι γραμμένα σε χιουμοριστικό τόνο. Αρκετά από τα έργα του αργότερα μεταφέρθηκαν σε ταινίες.
Απεβίωσε σε ηλικία 88 ετών και ζήτησε από την οικογένειά του να σκορπίσουν τις στάχτες του στη θάλασσα.